Meet your Hosts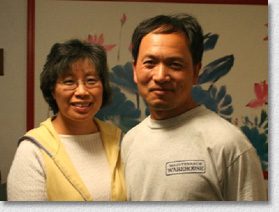 As a husband and wife team, we work together to make your experience at Grace Manor unforgettable. From your initial contact to our farewell partings, we are involved in serving you every step of the way. Becky handles the majority of the communication and coordinating with guests to ensure that we meet the needs of individuals, families, and groups. She loves to spend time with guests in the dining room and always has a story to share. Her amazing memory also means that she will know your name and face by the end of your stay. Raymond is in charge of preparing the mouthwatering dishes
available at every meal. In addition to being an amazing chef, he also a DIY extraordinaire who has maintained, renovated, and built up much of what you can see at Grace Manor today. Our guests are treated as family and friends and we consistently hold up our standards of serving with excellence.

Thank you very much indeed for your wonderful service.  Grace Manor is the best retreat camp that I have ever seen.
Rev. Jose Calderon
First Spanish Baptist Church of Central Islip
Everything about this place speaks of the grace of our God-aptly named "Grace Manor."  May this place always be somewhere that people find Christ and are renewed live life for Jesus.
Pastor Samuel Park
Chamsarang Church
Thank you for treating Grace Manor as a ministry and not as a business.  We not only enjoy our time here but also experience great spiritual blessings and God's presence.  May God continue to bless your ministry.
Pastor John Wang
First Baptist Church of Flushing
We love to come and share special times with the Lord and you.  Don't forget this is the Lord's place and you are His manager.  He will provide for His place.
Pastor Francisco & Candita Alicea
Abundant Life Christian Center
The name of your facility speaks of itself, "Grace Manor."  We have surely experienced the grace of the Lord upon our lives as we waited upon Him.  Please accept our deepest appreciation and thanks for your love, concern, care, and gracious words.
Rev. Dr. Issac Arku
Light of the World Ministry
Grace Manor is a home away from home. The Care, hospitality and food reflects God's grace in Action.
Bishop John & Rev. Courtney Cummings
Restoration Temple
Grace Manor indeed is a place of love and refreshing.
Bishop Dr. Peter Owusu Ansah
Calvary Deliverance Church

---
Contact Us
Grace Manor is located in the beautiful little town of Greenville, New York.